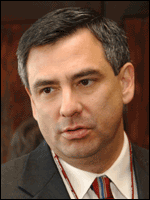 Based on my email, none of my readers heard my interview on CNN Radio this afternoon. I've been waiting all day for congratulatory messages, and I am still waiting.

As I reported yesterday, I was to be one of three guests on the afternoon "magazine" show hosted by Renay San Miguel, (pictured). One of the four segments was on "blogger rights."

First he interviewed Mark Jen, a guy who briefly worked for Google before he was fired for his blog. He wasn't very interesting.

Then Renay turned to me. I had the foresight to jot down a few thoughts the night before so I would sound smart. Still, I didn't know what Renay was going to ask me. (If they had told me what the questions were beforehand, that would be considered "unethical.")

Sure enough, one of Renay's questions dovetailed with some of my jotted-down, pre-show thoughts, and I was able to say on the air: "I was ahead of my time. The hayseeds who run the Houston Chronicle didn't know what a blog was 3 years ago. Now they have 20 of 'em. They've even linked to me!"

This blew Renay away, and he chuckled. He asked (paraphrasing here) if I called the Chronicle up and said, `Hey, how could you fire me for my blog and now link to the very blog you fired me for?' (or something along those lines.)

I said, "No, but it certainly was ironic."

Then I said something about bloggers get fired by their employers because "Corporate America is driven by fear."

Then, Renay was off talking to the Electronic Frontier Foundation representative, and I didn't really pay much attention to what he was saying cause the sound quality on my cell phone really isn't that great since I live so far out in the boonies.

My executive assistant, who was listening to the CNN Radio online stream, said I was quite good. She talked to one listener in California who said I was "fabulous."

I'm not sure I was fabulous, but I've always wanted to say the word "hayseed" on international radio, and now that I've done that, I feel pretty fabulous.