Talking on Sportsradio610 this afternoon, Astros General Manager Tim Purpura noted that making a trade this spring training season is pretty tricky since a number of players look notably smaller than they once did. He didn't say the word "steroids" but didn't have to. Then, when asked directly if there were any steroid issues in the Astros organization, Purpura said there have been and "they have been dealt with." He didn't name names, of course, and then, quite mysteriously, his cell phone went dead. (He was speaking from Florida.) ... As far as on-the-field-play this year, look for the Astros to run the bases more aggressively than they did the first half of last year, when the wacky Jimy Williams was the skipper. New manager Phil "Scrap Iron" Garner likes the running game. Me too... Back to the incessant steroids talk -- Word around the spring training circuit is that Detroit backstop Ivan "Pudge" Rodriguez is noticeably "lighter" this year, says Sportsradio610 co-host Rich Lord... In football talk, Chronicle NFL writer John McLain told Sportsradio610 there's no way the Texans will draft an offensive lineman in the first round, even though a lot of mock drafts project them to select Florida State O-Tackle Alex Barron. Think receiver in the first round and cornerback in the second, says McLain.

Cox Communications is bringing in a new VP/GM to crack the whip at two of its also-ran stations, oldies KLDE-FM and classic '80s rocker KHPT-FM. Mark Krieschen has rented Glengarry Glenross to study Alec Baldwin's "coffee is for closers" speech in anticipation of his H-Town gig. The two stations are stuck in the middle of the ratings pack led by Clear Channel's adult contemporary KODA-FM...

Meanwhile, if this isn't enough to crack the Houston market, nothing is -- NOTHING! Jerry Springer will be joining the liberal talk network Air America on April Fool's Day. Never overestimate the intelligence of your audience. That's a rule in the cutthroat radio biz.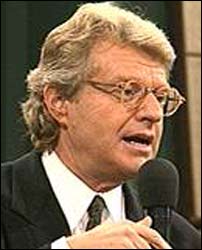 [radio&records]
[3-3-05 Houston Arbitron ratings]
[nationalledger]