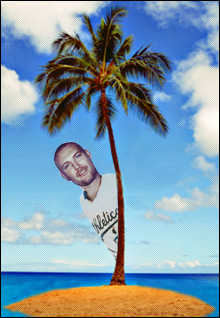 Troy Neel was a bigshot Brazoswood High School jock who went on to play football at Texas A&M and baseball in the major leagues, but he is about to take a mighty fall -- all because he was too greedy to support his two children.

So, Neel was a heel.

Back in the day, when he helped B'Wood win the state baseball championship, he brought glory to our humble, heavily-polluted area, but now that has been replaced by shame.

Why, Troy, why? You coulda had it all. Coulda been a local hero for life. Now you're just a convicted felon who couldn't hit the curveball at The Show*.

The Texas Attorney General sent word to us today that Neel the Heel pleaded guilty today to a federal criminal non-support charge in San Antonio.

Neel the Heel faces a maximum penalty of two years in prison and a $250,000 fine.

"Troy Neel failed to make more than $750,000 in court-ordered child support payments," said Texas Attorney General Greg Abbott. "After retiring from professional sports, Neel had the financial resources to purchase an island resort in the South Pacific – but he failed to support his children. Today's guilty plea marks an important chapter in the state's lengthy effort to hold Troy Neel accountable for violating the law."

Thank you, Gen. Abbott, for bringing this scoundrel to justice.

It's not like the blaggard was penniless and couldn't help support his kids. He bought a damn island in the South Pacific!

More background from the A.G.'s office:


Federal agents arrested Neel last December at the Los Angeles International Airport as he exited a flight from Sydney, Australia. The arrest reflected an eight year long joint state-federal effort to bring Neel into custody.

Neel played football at Texas A&M University from 1984 to 1985 and played professional baseball for the Oakland Athletics from 1992 to 1994. Later, Neel also played for professional baseball clubs in Japan and Korea. In 1998, Neel was ordered to pay $5,000 a month in child support for the care of his son and daughter. The court order was based upon Neel's earnings as a professional athlete. After retiring from professional sports, Neel purchased a resort island in the Republic of Vanuatu, where he has resided since 2000.
All is shame. Just a damn shame.
---------------------------------
* The Show is baseball slang for big league baseball