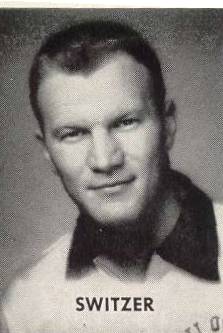 Barry Switzer, former head coach at OU and the Dallas Cowboys, was talking tonight on his regular weekly radio show in Oklahoma City and he mentioned he recently was at Valley Ranch, where he visited with some of his old colleagues.

He said he asked what college player Dallas had slotted at #1 on their draft board last spring and was told Mario Williams, the guy taken by the Houston Texans despite the availability of Vince Young and Reggie Bush.

Switzer said he bet 26 of 32 NFL teams had Williams at #1, too.

So put that in your pipe and smoke it, Texan fans.

A few minutes later, a listener called in and said he knew Switzer kept up with his old players, so he wanted to know about former Sooners Stanley Wilson and Buster Rhymes.

"What are they doing?" the caller asked.

"Time," replied Switzer.

What a jokester, but at least in the case of Wilson, that apparently is true. "He's a 3-time loser out in California where they have the 3-strikes and you're out law," he said of the former Cincinnati Bengal.

So far as Rhymes is concerned, he said he heard he was gonna be in OKC this weekend to see his brother and expressed hope that he might see him.