Milo Hamilton in his Hall of Fame photo
------------------------------------
Milo Hamilton, the radio play-by-play man for the Astros, knows who's butterin' his bread, and for that he should be recognized.

We're only four games into the season, with the fifth game about to start, and already he has shown he is a master at product placement.

Last night, when pinch hitter Jose Vizcaino smashed a game-winning, ninth-inning double to right field, Milo, a seasoned broadcaster at 77 years old, did not allow the excitement of the play to divert him from noting excitedly that the hit landed "up against the Landmark Chevrolet sign!"

Earlier, when the Cards were in town, St. Louis outfielder Reggie Sanders hit a home right into the right field seats "over the Landmark Cheverolet sign," Milo informed listeners.

It really puts you right there in Minute Maid Park, even though you're at home or in your car listening to the game on the radio, and, if you're like me, makes you want to see the USA in a Chevrolet.

Meanwhile, the question of how bad the right shoulder of Astros' first baseman Jeff Bagwell should be clear to all at this early stage of the baseball season.

Last night, with a Reds runner on 2nd base, there was a groundball and a throw to Bagwell at 1st for the out, followed immediately by 2nd baseman Craig Biggio and pitcher Brandon Bakke rushing to first base in case the runner on 2nd tried to advance to 3rd base.

It's a play the Astros worked on in spring training, radio analyst Alan Ashby noted.

Bagwell can hardly throw the ball to third base, so the plan is for him to flip the ball to the pitcher or the second baseman so they can throw the ball to third, if need be.

It should make for some interesting score cards. A double play in that situation could have been 1-3-4-5. A baseball version of the old flea flicker.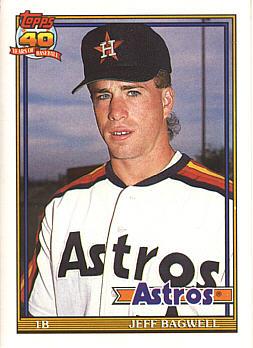 Jeff Bagwell, as seen in his 1991 Topps rookie card