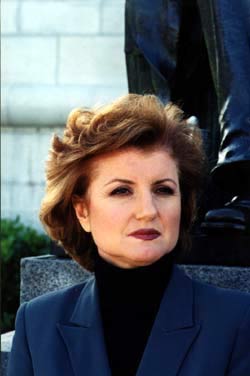 Arrianna Huffington: dahling, i just love the blogs
--------------------------------------------------
It's official.
Bloggerville is being co-opted by celebrities.
So sit back and pretend you're at one of Arrianna Huffington's intellectually stimulating dinner parties, and be sure you use the right fork and spoon.

Huffington's forthcoming blog will include musings from some of the biggest names in the galaxy:
Warren Beatty, Jon Corzine, Walter Cronkite, Larry David, Nora Ephron, James Fallows, Gary Hart, Vernon Jordan, Diane Keaton, Norman Mailer, David Mamet, Gwyneth Paltrow, Arthur Schlesinger, and Mort Zuckerman.

I don't know about you, but I'm sure Sen. Corzine has some knee-slappin' satire to contribute. And Uncle Walter? Who knew he could cut 'n paste? Gwyneth Paltrow, a multi-tasker if there ever was one, will no doubt be blogging away while daughter Apple suckles at her bosom.
Other notable contributors: writer-producer Aaron Sorkin, talk-show host Michael Medved, Playboy Chief Executive Christie Hefner, and actors Harry Shearer, Julia Louis-Dreyfus and Wall St. Journal writer John Fund.
Fund doesn't mind being outnumbered by libs. Could he fall victim to the Stockholm Syndrome? Already he's sounding a little star-crossed.
(Fund) said he recalled from Huffington's days throwing dinner parties as the wife of former Rep. Michael Huffington (R-Santa Barbara) in the 1990s that she knew how to bring together an interesting stew of people.

"I'm very happy to sample at her buffet table and contribute a little," Fund said. "I think there will be some intellectual nourishment there."

As do other blogs, Huffington plans to link hers to other websites and to encourage responses from readers. It will be up to the commentators how much they want to take part in the back and forth.

Veteran Web commentator John Aravosis predicted that a smaller group of pundits would emerge as the regulars on Huffington's site, and that only then would its true character emerge.

"Every online project morphs into something new eventually," Aravosis said. "That is part of the fun of it. But you really don't know what it's going to become."

Blogs have been credited as a leveler of American journalism — offering a public forum to anyone with a computer and an opinion.

Portions of the blog will be syndicated to newspapers for their print and Web editions.
[e&p]
[lat]