Just Another Day in Paradise:
Power goes on, power goes off,
Flare goes on, flare goes off...
WHEEE! It's like a scary special carnival ride....
Been kinda quiet on the emissions event front.
It never lasts long. You know it. I know it. All God's chilluns know it.
At BP Amoco's Chocolate Bayou plant (located on Chocolate Bayou) there was this problem with a power. It stopped. Whatever. Power failure, that's what it's called. Happened 1-20-05, 2 pm ish. Resuling in "unit upset." Reported releases: 151 lbs. of 1,3 butadiene, 504 lbs. ethylene (gaseous), 1,051 lbs. carbon monoxide, blah, blah, blah.
Then the
flare
that, like, is supposed to burn up the bad stuff went out. Candle-in-the-wind. Tack on 10 lbs. of benzene.
MEANWHILE ...
Carbon Functional Silanes Facililty makes its first entrance in The B'port News thanks to a leak in the ol' RF-22 cylinder on 1-11-05.
A certified technician was called. (Tip to kids reading at home:
Always
go with "certified" tech. You try the itinerant technician who's been hanging around Jonny's bait camp, well, just don't.)
Unit shut down per S.O.P. (details in employee manual), but exactly how long RF-22 was leaking, no fucking idea, re Official Report.
Beginning to end, event lasted, give-take, no longer than ... mmmm, 24 hours.
Bottom line: 400 lbs. of Monochlorodifluoromethane. (Don't even ask. We're all doomed.)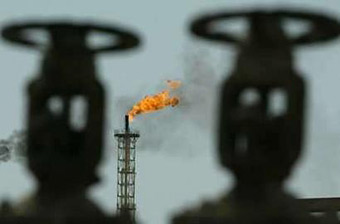 BP Amoco event report
BP Amoco event report 2
BP Amoco event report 3
Carbon Functional Silanes report